Nyungwe National Park offers a rare and important habitat for many species, especially primates and birds. And at over 1000 km2, Nyungwe is Africa's largest protected mountain rainforest.
In southwestern Rwanda, a tract of unspoiled mountain rain forest home to chimpanzees and a dozen other primates;not to mention hundreds of species of birds – Nyungwe is a must see spot for a thrilling nature and wildlife experience.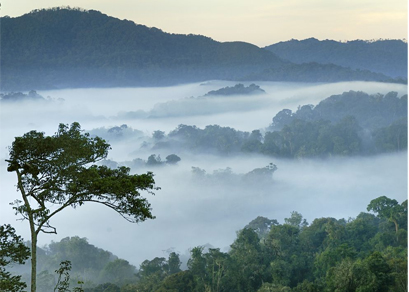 With about 310 bird species, 26 of which are endemic, Nyungwe is one of the most important — and still undiscovered tourism destination in Rwanda for bird watching. Reaching to almost 3000 meters above sea level with Mount Bigugu the highest point in the Park, Nyungwe's forests extend to altitudes occupied by few other forests in Africa.
Nyungwe is also home to one of Africa's greatest concentrations of chimpanzees and a sometimes noisy, acrobatic combination of other primates such as Ruwenzori colobus and Lhotse's monkeys. A variety of hiking and walking trails criss-cross the Park leading to a canopy walk, primate tracking adventures, the southernmost source of the Nile and ecotourism attractions. The park includes a colorful array of orchids, butterflies, moths and other insects.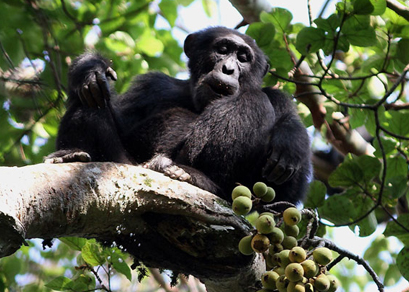 The forest has a growing network of walking and hiking trails and a number of camping sites near the Uwinka Visitor Center. Cultural tourism activities are being developed near the edge of the Park. New trails and camping sites are planned and being constructed as part of the USAID-sponsored Nyungwe Nziza Project, as are new ways of both observing and enjoying the Park.
More Forest Facts:
An Ancient Forest Nyungwe forest has existed for hundreds of thousands of years, and is one of Africa's oldest. Thus, there is a possibility that climate change will not affect Nyungwe as much as other forests, as long as it is protected from threats like fires and tree cutting. Why is Nyungwe So Diverse? Scientists think that Nyungwe was one of the few places in Africa to remain green during the last Ice Age. Species took shelter in Nyungwe and never left! What's Special about a Mountain Rainforest? It is home to a variety of plants, animals, and habitats found almost nowhere else.
Nyungwe: Part of Africa's Great Rift Valley This forest is in the Albertine Rift, a mountainous section of East Africa that, as a whole, harbors more endemic birds, mammals, and amphibians than any other region in Africa. For example: over 1000 species of birds, about 52% of all of Africa's birds, have been recorded in the Albertine Rift. Nyungwe is the largest protected area within the Albertine Rift, and contains 25 of these endemics, more than any other site in east Africa.
Nyungwe and Water – Lots of Water
Nyungwe is Rwanda's primary water catchment, sheltering more than two-thirds of all of its waters. Nyungwe receives more than 2000 mm a year of rain and thus is also the source of Africa's great rivers. Rain that falls on the east side feeds the Nile and on the west runs to the Congo. The Congo-Nile Divide is a mountain range that runs north to south through Rwanda.
Activities in and around Nyungwe National Park
Nyungwe National Park is a top ecotourism destination with a growing network of hiking trails that offer visitors great opportunities for world class bird watching, chimp tracking, monkey watching, and orchid ogling. Camping is also possible at a few sites in the Park. And, of course, the Park also offers the only Canopy Walk in East Africa.
Hiking trails
Nyungwe offers 13 hiking trails, some with tongue-twisting names. Try pronouncing "Igishigishigi" quickly, which is the name of an easy 1.7 km trail that begins near the Uwinka Reception Centre. By the way, Igishigishigi means tree fern. The trails range from easy to difficult and from 1.7 kms to 10.6 kms in length.
World Class Bird Watching
Nyungwe is home to at least 278 bird species, 26 of which are endemic to the Albertine Rift Valley. It is one of the best bird watching destinations in Africa. Some of the birds that can be seen here include the Great Blu Turaco, the Crowned Hornbill and the Blue-Headed Sunbird.
Primate Tracking
Thirteen species of primates are known to inhabit Nyungwe Forest, including chimpanzees, owl-faced guenons and Angolan black and white colobus monkeys. In a 2002 report by the Wildlife Conservation Society, they found the latter living in groups of more than 300 individuals.
Orchid Ogling
Nyungwe is home to 154 species of orchids, eight of which are endemic to Rwanda. The Park hosts 68% of the orchid flora of Rwanda. It is one of the world's greatest concentrations of orchids.