Akagera National Park is located in the north east of Rwanda along the border with Tanzania and plays a major role in Rwanda tourism. It is named after the Akagera River that flows along its eastern boundary and feeds into a labyrinth of lakes of which the largest is Lake Ihema. The rolling hills of Acacia and Brachystegia Woodland coupled with scattered grassland and swamp-fringed lakes along the meandering Akagera watercourse combine to create a park of breathtaking scenic beauty. That is why if you are planning a holiday/ travel to Rwanda, Akagera is one spot not to exclude in your safari plan.
Click here to Contact Us for a holiday to Rwanda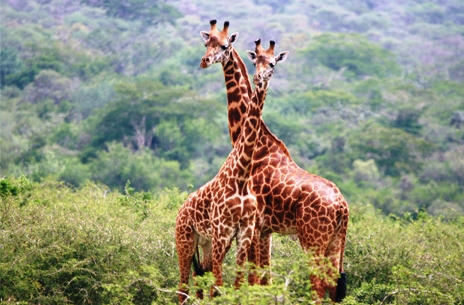 Akagera is a top wildlife destination in Rwanda! Though gorilla trekking is the most popular wildlife tour activity in Rwanda, parc akagera takes you to meet large herds of buffalo, giraffe and zebra move across the savannah, and the lucky tourists usually catch a glimpse of elephants emerging from the woodland to drink at the nearby lakes. Akagera is home to more than a dozen types of antelope, most commonly the handsome impala, but also oribi and bushbuck, as well as the largest antelope, the cape eland. There are other animals like Leopards and hyenas that might be seen on a night drive as well as other wildlife.
Click here to Contact Us for a holiday to Rwanda
The hippos and crocodile are always seen on a boat cruise in Lake Ihema. The lake shores provide a top spot for bird watchers providing some of Africa's densest concentrations of water birds counting 525 species, Akagera is a true birders paradise.
Camping alongside the picturesque lakes of Akagera, or atop Muyumbu ridge overlooking the lakes and Tanzania in the distance, is a truly mystical introduction to the wonders of the African bush.
Fauna & Flora
Forest fringed lakes, papyrus swamps, savannah plains and rolling highlands combined in a relatively small area make Akagera among the most scenic of savannah reserves. Akagera has exceptional levels of biodiversity, partly due to its position at the confluence of different vegetation zones. The extensive systems of freshwater lakes and associated papyrus swamps form the largest protected wetland in central Africa.
Click here to Contact Us for a holiday to Rwanda
Activities
Guided game drives; our tour guides will take you to areas where wildlife is most abundant and guide you to stunning scenic spots that you may otherwise miss.
Birding safaris are popular amongst regular visitors and the immense variety and abundance of species will not fail to impress. From the vast concentrations of waterfowl to the myriad of savanna species, there is never a dull moment, with more than 500 species recorded in Akagera. Serious birders can seek out several endemic species as well as rare gems such as the near threatened papyrus gonolek (Laniarius mufumbiri), which is restricted to papyrus swamps, the localised red-faced barbet (Lybius bidentatus) and the sought after swamp flycatcher (Muscicapa boehmi).
Fishing is available on Lake Shakani and several camping spots allow you to spend a night out amongst the sights and sounds of the bush.
Akagera provides a true refreshing holiday; very different compared to other conventional wildlife holidays in East Africa.