One can trek mountain Gorillas in Uganda, Rwanda or Congo and the question of which is the best trek is highly inevitable to ask.
Most Gorilla trekkers visit Uganda and Rwanda most because of the insecurity in eastern Congo, however if you have limited time for a gorilla trek go to Rwanda, if you want to travel the African country side and see many other things African go to Uganda, if you have traveled around Africa often go to Congo as it gives a completely different experience but needs one with some good knowledge of things the African way.
Rwanda Gorilla Experience Vs Uganda Gorilla Trekking
Cost: Gorilla permits in Rwanda cost $750 per person to trek while the permit costs USD $500 per person to gorilla trek in Uganda. A gorilla trekking permit allows you to spend an hour with Gorillas, you trek Gorillas in groups of 8 people. When with the Gorillas, you are advised to keep a distance even if Gorillas are known to be gentle by nature but can turn wild like any other Animal when you get too close. Also avoid audible camera shutter sounds and bright flash lights as Gorillas are usually threatened by any of those.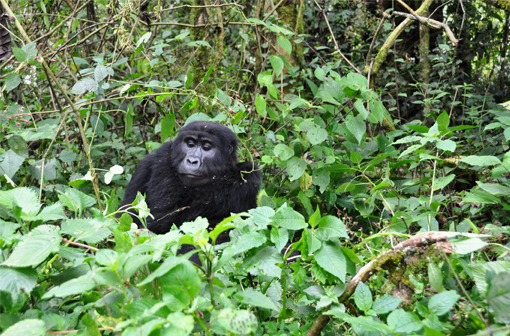 Ease of Access: For easier access to Gorilla trekking parks, you are better landing in Rwanda at Kigali international Airport. Flying to Rwanda will be better when you have a short time to go see the gorillas or you plan other tour activities in the surrounding countries; Uganda, Kenya or Tanzania including gorilla trekking. The drive from Kigali Airport to Ruhengeri town is a few hours compared to driving from Entebbe Airport in Uganda to the gorilla trekking area bordering Rwanda and Congo.
Gorilla Trekking in Uganda is the right choice if you plan a gorilla safari including other activities like; sightseeing, meet people and culture, bird watching, game drives etc. There are so many things to do and see in Uganda compared to Rwanda, and the people are very welcoming; an 8 day holiday in Uganda may not really feel like a whole 8 days as you will have so many things to find during your visit.
Seeing the gorillas in Uganda requires you to be fit enough as the vegetation in Bwindi forest of Uganda is so thick and it rains most of the time here. A normal gorilla trek in Bwindi may take about 8 hours of going over steep slopes searching for Gorillas.